ESRI's Geoff Bright is featured in the article below, talking about children in colliery towns and the miner's strike. The article was originally published in the Guardian. Great work Geoff!
---
This article titled "Why don't children in colliery towns learn about the miners' stike?" was written by Chris Arnot, for The Guardian on Tuesday 1st July 2014 06.25 UTC
Ian Buxton, deputy headteacher, is nursing a Nottingham Forest mug and sitting near a photograph of Bolsover colliery at Bolsover school, Derbyshire. His mug tells its own little story: Forest supporters have long had to endure chants of "scab" when their team plays around here. The chanters are making an oblique reference to the miners' strike of 30 years ago, even though most Forest fans were never miners and most of the chanters weren't even born at the time.
Buxton, 60, remembers the strike well. He started work here in January, 1984, when he was still living in Retford, Nottinghamshire, and the strike began two months later. "Every time I drove to school, there were lines of police on the county border," he recalls. "The first few times I was stopped and they'd go through the car."
The men in his family worked at Annesley colliery. "My father insisted that I wouldn't go down the pit," says Buxton. Instead he went to teacher training college in London, and by 1984 he had been qualified for seven years.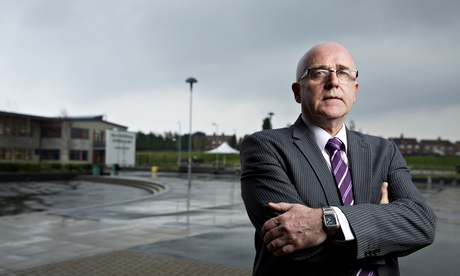 It was a difficult time to be teaching in a colliery town. "Some staff had families split between those who had joined the strike and those who had stayed at work. One member of staff, I remember, had two sons on different sides."
As far as students were concerned, "there was a little bit of tension but it didn't really come into school that much. We had a sixth form in those days and there were some healthy debates at post-16 level." Edwina Currie came in to talk to sixth formers, he says. Currie was a Derbyshire MP and a member of Margaret Thatcher's cabinet. The local MP was, and is, Labour's Dennis Skinner, a fierce supporter of the strikers.
But 30 years on, how much do young people in the former mining towns know about the strike that divided their communities? The answer is not a lot, according to research by Dr Geoff Bright from Manchester Metropolitan University. While the communities are still suffering from the results of the conflict, those still at school know little about the dramatic history of their own neighbourhoods.
Bright, a research associate in the university's Education and Social Research Institute and author of a new book, There's a Kind of Haunting Going On, spent six years interviewing students in this area who had been excluded or were on the verge of exclusion from school and talking to them about their lives and their communities. The vast majority were boys. At one time they would probably have followed their fathers into mining, for a dirty and hazardous but nonetheless steady living and the opportunity to learn electrical or mechanical skills. But those jobs no longer exist.
Mining communities have traditionally been conscious of their shared history. But not now, says Bright. "Kids don't know their own histories, yet they're still playing them out," he says. He cites the way youths from one village will routinely call those from another "scabs", leading to some "very nasty" confrontations. Their knowledge about the actual events is very limited.
Bright is all too aware, though, that telling students what really went on in 1984-5 is not easy, with the sensitivities of parents with long memories and the constraints of the national curriculum.
No students from Bolsover school were involved in Bright's research. Chatting to some of them, though, is fascinating. Ellie Whittaker, 15, was due to answer questions on the American west and medicine through time when I spoke to her shortly before her history GCSE exam. Her father, grandfathers and uncles were all miners. "Grandad Keith's always going on about it," she smiles. "He's got bits of coal in his back." Was he in or out during the strike? "Not sure."
He was in, as it happens, but only because he was a member of NACODS, the deputies' union charged with keeping collieries safe for strikers to go back to. The rest of the family were all out.
So was Jamie Brown's father, Dave, now chairman of the school governors. Does he talk about the strike? "No. But he did tell me about his accident underground when a machine fell on his leg."
Like Ellie, Jamie has studied the Romans, the Tudors and the second world war as part of the history syllabus. "I am interested in the history of mining, though," he says. "I've been underground [at the National Mining museum] in Wakefield with my Mum. Didn't like the look of it. I couldn't do a job like that."
Had he been born at another time, he may not have had much choice. As it is, Jamie wants to join the army.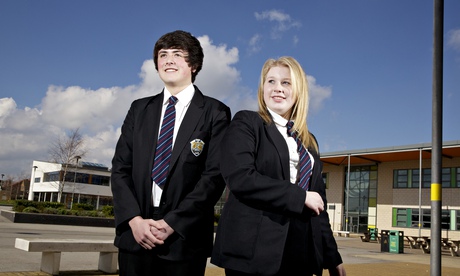 Headteacher Gordon Inglis is conscious of the need to expand his students' horizons, "enabling individuals to fulfil their potential within our dynamic 21st-century economy", as it says in the school vision. Hence annual trips to Shanghai and a sister school in West Africa, and hence the clocks in the entrance hall telling the time in New York, Buenos Aires, Hong Kong and Sydney. At the same time he tries hard to connect the children with their mining past through extra- curricular projects. By his own admission, though, he is "nervous about upsetting the local community" when it comes to discussing the strike.
Bright hopes that his research will make schools and support services in former mining areas more aware of what he calls "the complex consequences of the history of de-industrialisation". The mining communities, he says, "weren't just isolated; they were self-contained. They inherited a cultural history that had been handed down orally. Those communities had their own narratives, a sense of their own part in a dangerous and precarious industry."
There is still some awareness of that legacy in areas such as South Yorkshire and south Wales, he says. "But the educational aspirations of kids from former mining towns are still being affected by the positioning of those communities as 'the enemy within' by the prime minister of the time, Margaret Thatcher. It's hard to see that you have a stake in things when your family and community have been positioned like that."
In areas such as Nottinghamshire and Derbyshire, meanwhile, Bright believes that children are aware of deep-lying conflicts but unaware of the causes. So is it the job of schools to impart that missing knowledge?
"That's a matter of very fine judgment. If they're in a position to do that, yes. Schools are under massive pressure to present themselves as a success story. I don't want to undermine that. I'm simply making the case for complexity. Some would say that this is an issue that has gone, that it's done and dusted. I would argue that it's not. It keeps presenting itself."
Chris Arnot is the author of Britain's Lost Mines
guardian.co.uk © Guardian News & Media Limited 2010
Published via the Guardian News Feed plugin for WordPress.